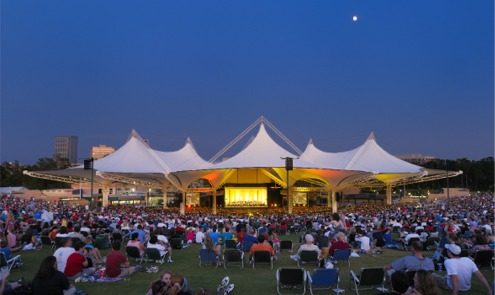 Located just 30 minutes north of Houston, The Woodlands is nestled among 28,000 acres of natural forest and offers visitors world-class shopping, great restaurants, nightlife, golf and more.

And whether your visit to The Woodlands is for business or pleasure, you'll find plenty to do in this quiet, yet progressive enclave. Stroll through Market Street The Woodlands, a collection of 75, specialty boutiques, restaurants and iconic national retailers in a family-friendly, pedestrian setting, is the primary reason for the area's popularity as a one-of-a-kind shopping destination.

The Fountains at Waterway Square, a 120-foot water wall, releases a choreographed, night-lit display of dancing columns of water, cascading waterfalls and boomer jets shooting water more than five stories high. Music lovers enjoy live concerts at the Cynthia Woods Mitchell Pavilion, the world's second most popular amphitheater, according to Pollstar Magazine.

Want to get close to nature? You can in The Woodlands, where individuals of all ages enjoy more than 180 miles of winding hike-and-bike trails as well as the 1,700-acre Mitchell Preserve. Take in the great outdoors at Town Green Park, the Central Park of The Woodlands, or rent a kayak at the Riva Road Boat House.

Best of all, getting around The Woodlands is a breeze. Hop aboard one of The Woodlands Waterway Trolleys or enjoy air-conditioned Water Cruiser service with stops along The Woodlands Waterway.