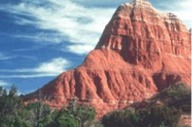 Located in the Texas Panhandle, just south of the City of Amarillo. Canyon derives it's name from Palo Duro Canyon , located approximately 12 miles from the City. Canyon was incorporated in 1906, but its roots as a community date back to the mid-to-late 1800's.

In 1876, Randall County was created from the Bexar District (and organized in 1889). Named after Confederate General Horace Randal, the County that bears his name also misspelled it. Colonel Charles Goodnight settled in Randall County in 1876 with 1,600 head of cattle, and would eventually control almost 1,000 square miles of Panhandle Plains.

In 1878, Jot Gunter and William B. Munson selected the site for the City of Canyon for the T Anchor Ranch.