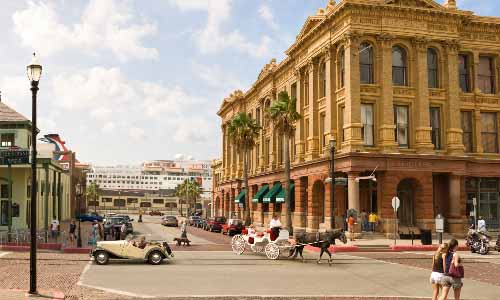 The Strand is found in historic Downtown Galveston. This area is popular with tourist and locals alike. Visitors can find island shopping, great food and entertainment choices of all sorts. Once on The Strand you'll have a hard time figuring out what to do first. Here are some suggestions.

Make sure to stop by La Kings Confectionary's old soda fountain to cool off or to satisfy your sweet tooth. La King's is a throwback to the 1920's when folks came out to the local confectionery to enjoy treats and visit. You and your family will experience the unique atmosphere of days gone by.

Once you're cooled off you'll want to stop by the Texas Seaport Museum which is home to a real life ship, the 1877 tall ship Elissa. Walk Elissa's decks and imagine the days when daring sailors challenged the world's oceans. In the adjacent museum and theater, witness the story of Elissa's dramatic rescue from the scrap yard and her meticulous restoration.

More into trains than ships well visit the Galveston Railroad Museum. The museum is home to one of the largest restored railroad collections in the southwest. You'll find railroad memorabilia and more than 40 pieces of locomotive and rolling stock.

Shopping more of your style? The Strand is just the place for you. If you can think of it The Strand probably has a shop that sells it.The shopping choices are great but it's the Victorian-inspired buildings and distinctive landmarks that will grab you. You'll find galleries, trendy boutiques, antique stores, souvenir shops and of course to the latest in fashions along The Strand.

Hungry? The Strand is home to many great restaurants along the way or you can walk a few blocks to enjoy dining along the waters edge.

The Strand is a one of a kind place. So whenin Galveston makes sure take a self-guided tour, a hourse drawn carriage ride or trolley ride along The Strand, you might even run into a pirate and be scard ouf you wits at the haunted house along the way.
- GETTING HERE -