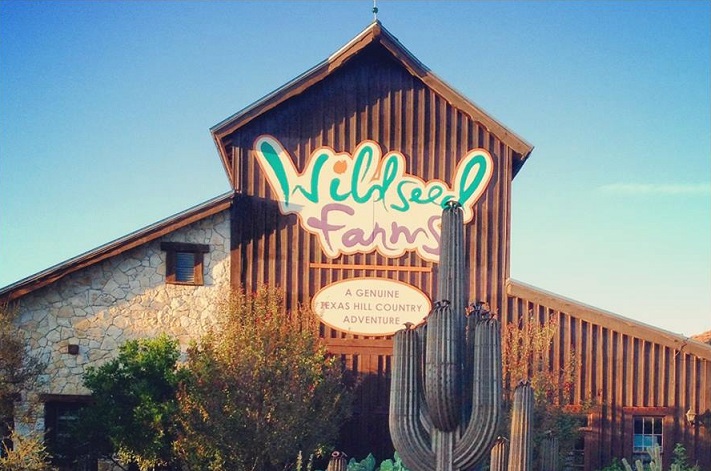 Wildseed Farms, the nations' largest working wildflower farm, opens its colorful location seven days a week for a variety of fun-filled activities and adventures. In addition to seasonally-blooming wildflower fields and nature experiences like the new Butterfly Gardens, Wildseed Farms is one of the best places in the Hill Country to shop for gifts, plants, pottery, ladies' fun fashions, specialty foods, Texas wines and (of course) wildflower seed!

Texas music often fills the air on Saturday afternoons in the Plaza at Wildseed Farms, where visitors can sit, sip a cold brew or a glass of wine, relax and enjoy the music. No admission fee is charged for relaxation, and parking is free as well. Families can stroll through Wildseed Farms' new Butterfly Gardens, take in some educational videos of the butterfly life cycles, and watch the butterflies as they drop in to graze on their favorite host or nectar plants. The display gardens and walking trail area known as The Meadows is planted with rows of colorful blooming flowers and grasses, and guests will surely want to have a camera handy as they stroll the half-mile stretch of trail.

Wildseed Farms hosts several festivals throughout the year. Wildflower Celebration is held during April and is scheduled to coincide with the best possible blooming season in the Texas hill country. Mother Nature is still in charge, however, and environmental factors such as air temperatures, soil temperatures and rainfall play the biggest part in the timing and degree of blooms in the wildflower fields. For insight into current status, Wildseed Farms maintains a bloom update on its website: www.wildseedfarms.com.

Mid-September brings the Gourmet Chili Pepper & Salsa Festival to Wildseed Farms. Hot peppers, hot spicy food vendors, hot recipes prepared by local chefs, hot air balloons, and hot live bands performing onstage make for a hot time at Wildseed Farms! Dates for the 2011 Fest are September 16th and 17th watch the website at www.wildseedfarms.com for details!

At Wildseed Farms the motto Come for the flowers; stay for the atmosphere! prevails. Drop by to see what's up and stay as long as you like! Wildseed Farms is open seven days a week from 9:30 a.m. to 6:00 p.m. (summer daylight savings time hours; 5:00 p.m. during winter months). Spring and summer months are best for blooming wildflowers, fall is planting season (and the time to purchase wildflower seeds for yards and meadows of your own), and the SHOPPING is GREAT year round!