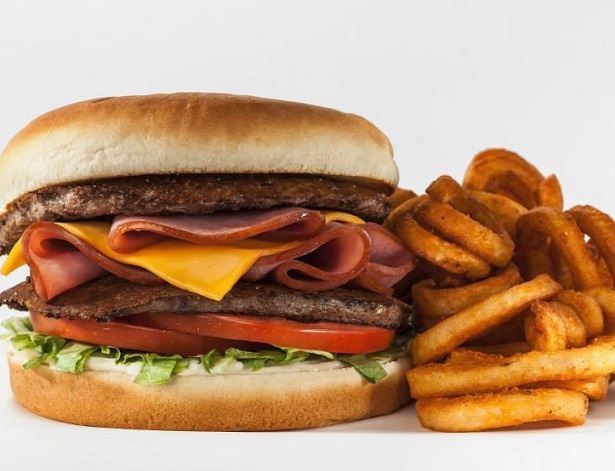 Over the last 62 years, Storm's Drive-In Restaurant has gained a first-class reputation across the Lone Star State for juicy, old-time hamburgers, hand-sliced "real potato" French Fries, breakfast tacos, and hand-mixed malts and shakes. There's a reason why their 100%-beef burgers taste just like they did back in 1950 -- they care enough to cook each hamburger to order. In fact they care enough to process the meat in their own plant to guarantee it's quality.

What's unique about the burgers is that they use thinner patties. The reason? Much of the flavor of a good burger comes from the caramelized "glaze" created when the meat sizzles on the grill. Say you order a half-pound burger. Rather than cook a single thick slab of meat, they go to the trouble of grilling three smaller patties, then stack them. This way, you get the same amount of meat as a regular half pounder, but you get a bonus: three times as much of that wonderful flavor! Most of you like to add cheese, which they layer between the patties so it melts beautifully.

Back in the 1950s, Storm's was a true "Mom 'n' Pop" operation. Jim and IraDell Storm, worked in the restaurant every day. You may know the name of one of their favorite customers, Elvis Presley. While he was in the army stationed at nearby Fort Hood, the "King of Rock 'n' Roll" sometimes drove over to Lampasas for a Storm's burger. IraDell enjoyed waiting on Elvis a number of times.

In 1971 Jim retired and his son Robbis took charge. Jim's long-term manager Kenneth Miiller became his partner and in 1984 they opened a second location in Burnet and two years later, a third in Hamilton. The newest Storm's is in Marble Falls. Much of Storm's success is due to the dedication and hard work of it's managers many of which have worked for Storm's since they we're teenagers.

Their best-selling burgers are the half-pound Storm's Special (if you're a cheese fan, be sure to ask for "double cheese!") and the Cordon Bleu Burger, which is a double meat burger stuffed with ham and cheese.