La Posada Milagro Guesthouse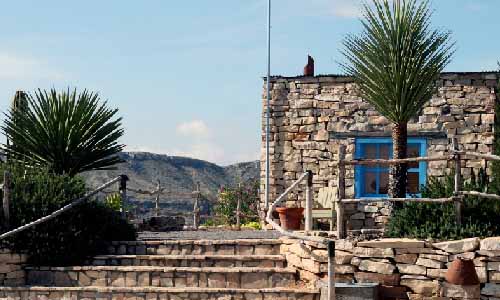 La Posada Milagro Guesthouse is a private boutique hotel in the Ghostown of Terlingua, Texas in the Big Bend. Built from the original foundations of several stacked-rock miners' homes on the north hill of the former mining town, it is apart from the busy activity of "downtown Terlingua" and with some of the best views of the Big Bend National Park.
There are four rooms at the hotel with a fifth coming this year. The rooms are next to four bathrooms as these ruins are historically restored; some have fireplaces, all have airconditioning.
Only one room has a private bath; three are queen-size beds and there is bunk room with three twin beds.

If needed the owner's home, just below the hotel, has a queen-size bed private room and a larger 4 bed bunkroom that can be rented. All rooms from the hotel and those at the owner's home are tied together with paths.

We offer a beautiful Mexican tiled outdoor kitchen with two barbeques and a stove/oven and outdoor sink with lots of counter space. The landscaping is very well done and offers quiet places to read or birdwatch or just take in all the vast scenery and vistas.

Espresso...y Poco Mas is our lobby for La Posada Milagro hotel and a great community coffee shop. Both tourists and locals come by for our seriously great coffee, locally roasted in Marfa, and to meet and greet any new folks in town. Noemi, the manager of the hotel, also runs the coffee shop and cooks pastries and homemade salsa, meatloaf and rotisserie chickens daily. Her Milagro Burrito with fresh avocado is famous as is her apple crumble!

From La Posada Milagro, one can walk down a lighted path at night for a great drink and dinner at the Starlight Theater. One never knows what Jason and Bill and Kathy will whip up at the Starlight! Hear great music on the Terlingua Porch regularly. Be ready for lots of personal opinions from the other folks sitting on the bench each sunset watching the sun go down on the Chisos. Take a stroll to the historical ( and contemporary!) Terlingua Cemetary and walk among the crosses and read the stories. Head Down to the El Dorado and see whats happening there. Maybe visit the horseshoe pit across from the Terlingua Trading Company, where you can buy ANYTHING....plus great books and maps and jewelry and Mexican folk art, beer and sodas.

there may be theater going on with the Last Minute Low Budget Productions. There may be an event that needs major dance night...good music can bring that in.

Be prepared for all and anything. The nights have no light pollution and are spectacular in themselves.

The Ghostown was WIFIed by La Posada Milagro years ago so there is free WIFI at the coffee shop and the hotel. TV is not part of the hotel package.

We are available for catering and weddings, parties, get togethers, family reunions.